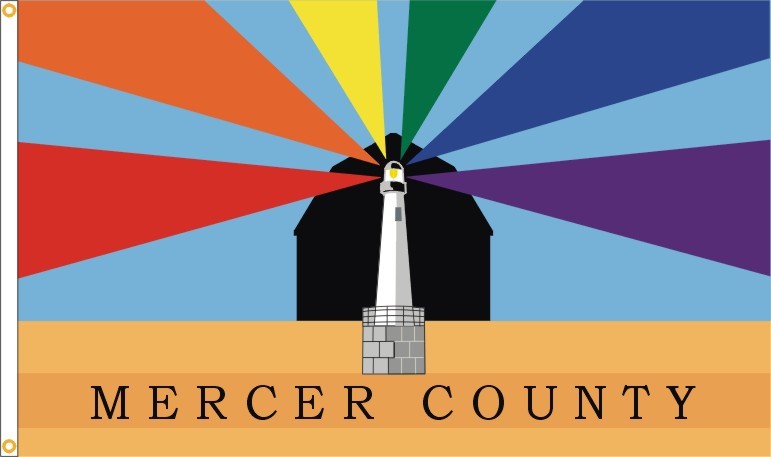 The Board of County Commissioners of Mercer County, Ohio gives special recognition to the following employees of Fanning/Howey Associates, Inc., Celina, Ohio for creating the Mercer County, Ohio flag design:
Marlene Abels
Vicki Giere
Beverly Heffner
Steve Hopf
Jane Miesse
Jon Miller
Doug Rich
Steve Starnes
Joyce Vehorn
OFFICIAL FLAG OF MERCER COUNTY, OHIO
On April 4, 2002, the Board of Mercer County Commissioners adopted an official county flag. The flag design represents Mercer County, Ohio's pride and strength…
Barn – Mercer County's strength and heritage in agricultural is clearly represented by the silhouette of an 1800's style barn.
Three amber bands – The three bands across the bottom of the flag represents the different colors of crops as they ripen and are ready for harvest.
Lighthouse – The lighthouse is a symbol for Grand Lake. The largest man-made lake in Ohio and a natural resource as well as recreation for Mercer County.
Six Beams of Light – Each of the six schools in Mercer County is represented by their prevalent school color as a beam of light coming from the lighthouse: red for St. Henry, orange for Coldwater, gold for Parkway, green for Celina, blue for Marion Local, and purple for Fort Recovery.
Foundation of Lighthouse – The foundation of the lighthouse is comprised of fourteen stone blocks, representing the fourteen townships in Mercer County, Ohio.